Another month has passed and even though I have been exercising, I haven't listened to my audiobook. I was too busy catching up on Youtube and I have this tendency if I'm near the end of something, I won't finish it, so I won't be done with it. It is a really bad habit and I am trying to get out of it. I will for sure be done with the last Airhead book this month for sure. No more putting it off. I'm not finding it that great anyway. I wanted to share some older reviews that I'm not sure if I have shared on this blog before. If so, it has been a really long time and I thought you guys might enjoy it on the months that I have no books to review. It is kinda like revisiting old favorites or hate its. Let me know if you like this or not. I am going through my Goodreads and sorting by oldest reviews first. I think this will be a lot of fun! Oh, btw, I have read 429 books since I started counting in February 2009. Apparently, there are a number of books that I never put the date that I read them on. We shall go through them first.
My rating: 5 of 5 stars
I loved this book so much with all of its plot twists and drama.
My rating: 5 of 5 stars
Best book in the series
Pregnancy: For The First Time Moms, What They Don't Tell You by Darell Spice
My rating: 2 of 5 stars
Not very helpful if you know the basics.
Harry Potter and the Half-Blood Prince by J.K. Rowling
My rating: 4 of 5 stars
So SHOCKING!!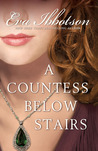 A Countess Below Stairs by Eva Ibbotson
My rating: 4 of 5 stars
It was the best book about Royalty that I have ever read.
I also apparently barely wrote about the books that I didn't bother putting a read date for. It is a good sampling to see what kinds of books that I like and enjoy for better recommendations. I really loved The Luxe series and I am so sad that I read all of them. They were my guilty pleasure books in high school. I really love anything that has to do with ages of luxury like the Victorian age or the roaring 20s. I just love all that glitz and glamour. I think I was born into the wrong time era. I would have loved to live during that time and been courted.
With Love,