The Stats:
NUTRITION PER SERVING
Calories 770kcal, Fat 47g, Saturated Fat 26g, Carbohydrate 67g, Sugar 14g, Dietary Fiber 5g, Protein 22g, Cholesterol 115mg, Sodium 1530mg
ALLERGENS
Milk. Wheat. Soy
INGREDIENTS WE SEND




Pepper Jack Cheese
2 unit



Vegetable Stock Concentrate
1 unit

YOU'LL NEED
Sugar, Olive Oil, Butter, Salt, Pepper
COOK THIS RECIPE IN 6 SIMPLE STEPS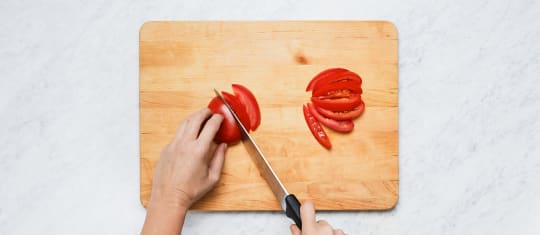 1
Preheat oven to 375 degrees. Bring 3 TBSP butter to room temperature. Wash and dry all produce. Line a baking sheet with foil. Halve tomato lengthwise; cut into ½-inch-thick wedges. Peel garlic, then wrap in a small piece of foil. Halve, peel, and finely chop onion until you have about ½ cup (1 cup for 4p).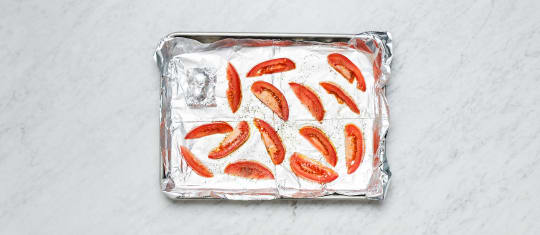 2
Toss tomato on prepared baking sheet with a large drizzle of olive oil and a pinch of salt and pepper. Place garlic foil packet on same sheet. Roast until tomato and garlic are browned and softened, 18-20 minutes.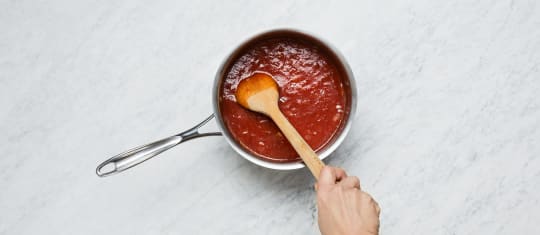 3
Meanwhile, heat a drizzle of olive oil in a medium pot over medium heat. Add onion and a pinch of salt and pepper. Cook, stirring, until softened, about 5 minutes. Stir in crushed tomatoes, stock concentrate, and 1 cup water (1 ¾ cups for 4p). Bring to a boil and cook, stirring occasionally, until thickened, 8-12 minutes.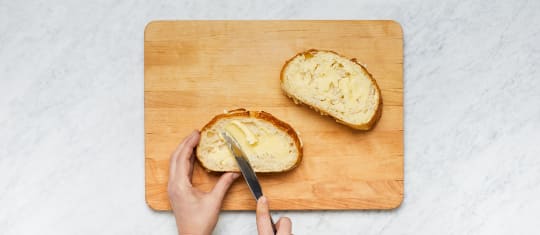 4
While soup simmers, evenly divide Pepper Jack between bread; form two sandwiches. If butter is not yet soft, place in a small, microwave-safe bowl and microwave for 5-10 seconds. Spread both sides of sandwiches with softened butter.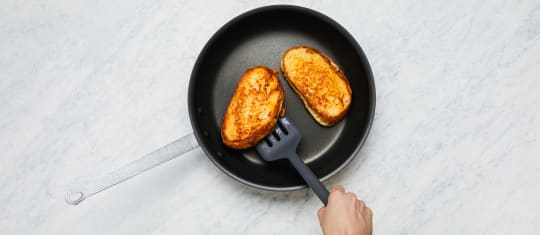 5
Heat a large, dry pan over medium heat. Add sandwiches and cook until browned and cheese has melted, about 5 minutes per side. Turn off heat. Halve grilled cheeses on a diagonal. Carefully transfer roasted tomato and garlic to a cutting board; finely chop.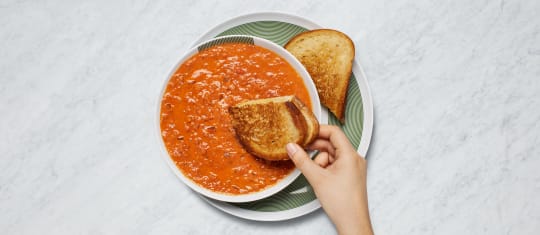 6
Stir chopped tomato and garlic, cream cheese, and ½ tsp sugar (1 tsp for 4p) into soup. Taste and season with salt, pepper, and/or another pinch of sugar. Serve grilled cheeses with soup on the side.
Our Meal:
Our Review:
I like the cute recipe cards. If we like the recipe enough, I will keep the card to make it again. Otherwise, I will find a new home for the card. My mom says she likes making new recipes, so I might given them to her to try. I'm disappointed that the ingredients were just tossed in and my bread was broken. I didn't like that at all and I hope the next box improves upon the presentation and placement of delicate pieces like bread. However, the meal itself was delicious. You can't really mess up soup and a grilled cheese though. Martin has said that every meal that I've made has been delicious. He cannot believe that I never really cooked before. I have finished making all three recipes and my only critique is that it takes longer to make everything than what they state. Could just be my crappy oven though.
I really love sharing recipes, pictures, and my opinion on the food. I will be continuing to share with these kinds of posts. I hope you enjoy them. I have been getting most of my recipes from an amazing app that Dean's ABA therapist turned me onto, because she enjoys cooking as well. I will be sharing my thoughts on that once I have used it more as well.
With Love,